The Secrets to Perfect Communication in your Dental Practice
25th November 2017
£150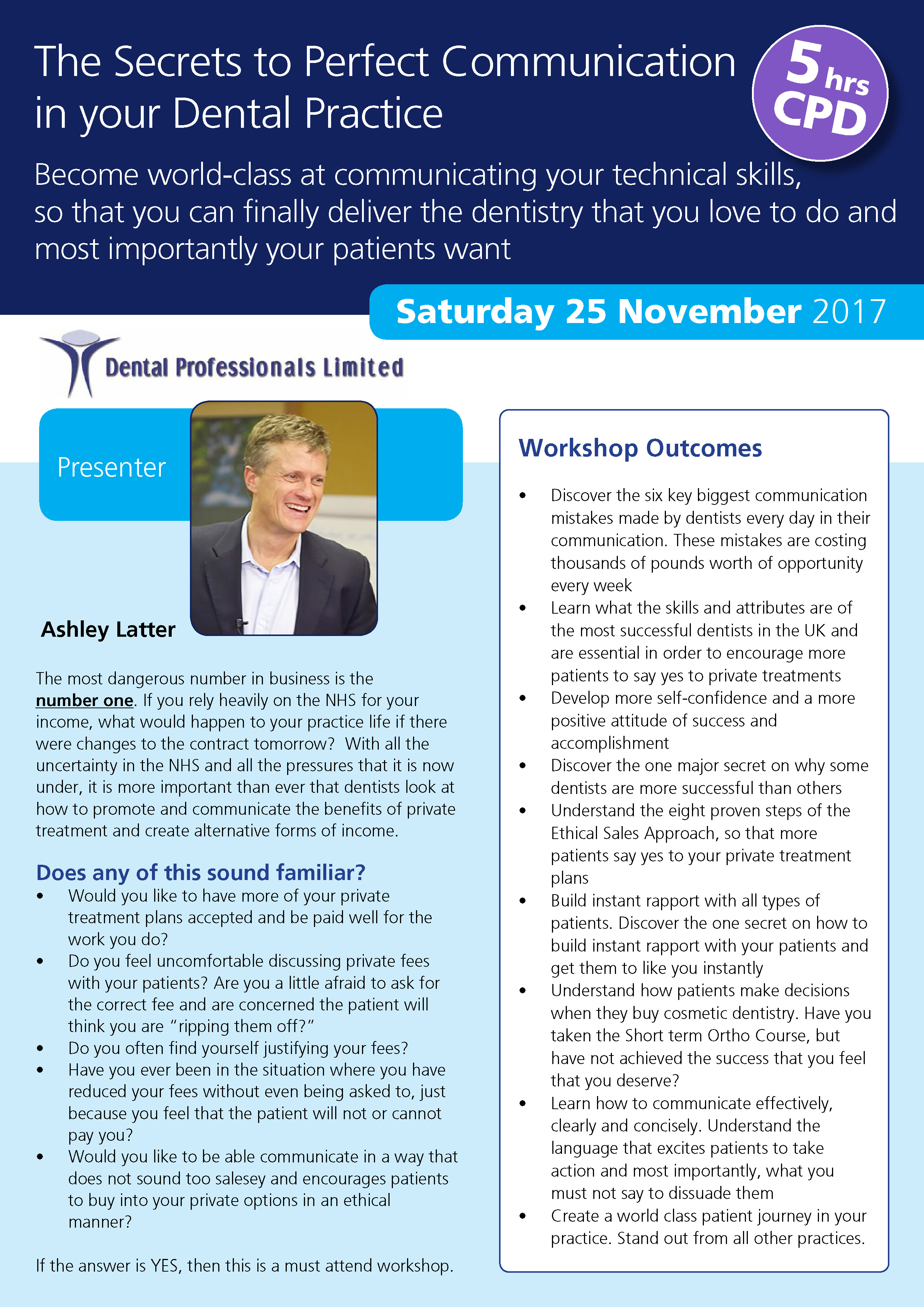 Link to PDF Flyer Ashley_Latter_DPLtd_DD_Sat_25_November_2017.pdf
Become world-class at communicating your technical skills,
so that you can finally deliver the dentistry that you love to do and most importantly your patients want.
5hrs CPD
Presenter: Ashley Latter
The most dangerous number in business is the
number one. If you rely heavily on the NHS for your
income, what would happen to your practice life if there
were changes to the contract tomorrow? With all the
uncertainty in the NHS and all the pressures that it is now
under, it is more important than ever that dentists look at
how to promote and communicate the benefits of private
treatment and create alternative forms of income.
Does any of this sound familiar?
 Would you like to have more of your private
treatment plans accepted and be paid well for the
work you do?
Do you feel uncomfortable discussing private fees
with your patients? Are you a little afraid to ask for
the correct fee and are concerned the patient will
think you are "ripping them off?"
Do you often find yourself justifying your fees?
Have you ever been in the situation where you have
reduced your fees without even being asked to, just
because you feel that the patient will not or cannot
pay you?
Would you like to be able communicate in a way that
does not sound too salesey and encourages patients
to buy into your private options in an ethical
manner?
If the answer is YES, then this is a must attend workshop.
---
Participant Comments
---
"I enjoyed the day very much, Ashley Latter was amazing, so different to the clinical lectures I listen to. "
Entertaining, Valuable, Interactive and an overall very well presented programme. Ashley is 'The Don!'
Many people who attended said they are going to change their approach in consultations and are going to build rapport and start asking more questions and ultimately listen to the patient a lot more and become genuinely interested. Also they have now built up confidence from the day and have a much more positive attitude.